Your kids will learn the times tables...guaranteed!
Self-paced, so kids learn quickly!

Automatically monitors and adjusts to individual student needs. Students move through the facts faster and more confident.

Engaging format builds confidence

Easy to use picture/story memory strategies build self-confidence. Animated movies and fun games make learning feel like play.

Detailed reporting tools

Immediate insights into student performance, accuracy, fluency, and if students are staying on task.

No ads & Affordable

Games ,activities, and lessons display full screen, without the distraction of annoying ads. All this at a very affordable price.
Easy Classroom Management
Insightful Reports
Fun Animated Video
Auto-Scored Quizzes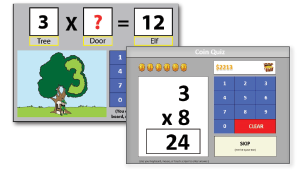 Guided Student Dashboard
Increase Fluency with Games
Activities that Boost Memory
Awards and Rewards
Huge Resource Library
Flexible - Teachers and parents can customize the learning options. Reports shows both student, group, and class progress at a glance. Intervention strategies can be designed based on "hard" data and delivered with ease with the Premium Learning System.
Fun Experience for kids - Concepts are presented in animated video and humorous pictures and stories. Games are intelligent and auto-adjusting, yet are exciting and highly engaging. (Kids truly do have fun while learning.)
Focus on Learning - The student dashboard quickly shows student growth at a glance. Students are not forced into repeated practice of what they already know. A daily quiz directs students to their "next step".
Saves Time - The Premium Learning System directs the learning experience. It teaches, scores, and reports for you! It is designed to:

Catch kids up who are lagging behind in learning the times tables.

Build speed and accuracy for All kids.

Maintain speed and accuracy for All kids.
Founder of Multiplication.com
Award winning teacher, author, and parent
"Since starting Multiplication.com 18 years ago, my goal has always been to help kids learn the time tables and have fun doing it. Every day, I hear from teachers and parents who share how the picture/story method of learning the time tables has helped their kids finally succeed. It has worked for millions of kids, it WILL work for yours."