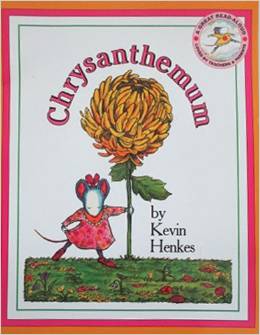 Chrysanthemum by Kevin Henkes is a great book to read aloud to your class! It is an excellent way to talk with students about how our words can hurt and how important it is to be kind to one another.
Chrysanthemum is about an adorable little mouse who LOVES her name. She loves that she is named after a flower. She loves to write her name, sing her name and she thought her name was absolutely perfect!
But, when Chrysanthemum starts school, she quickly learns that other school mates do not love her name the way she does. Using hurtful words, students make Chrysanthemum wish she had any other name in the world--Just NOT a name of something that grows in the dirt! 
With the help of her teacher, Chrysanthemum learns to love her name again and the whole class learns how hurtful words can harm our hearts. 
This is such a great book to read to your class at the beginning of the year when students are just getting to know one another. A unintentional comment about a classmate's name, difference in physical appearance or dress, can really hurt the heart.
I recently visited a classroom where the teacher read this book and then completed an activity with the entire class.  They all agreed that they would not use hurtful words to harm one another. 
The students were given examples of hurtful words and why they are not appropriate in the classroom.  They then discussed strategies for keeping the hurtful words out of the classroom. 
Finally, each student put their name on a band-aid and was asked to place their band-aid on the heart as a contract that they would  not use hurtful words toward other students.
The heart was then displayed in the front of the classroom to remind the students everyday to not use hurtful words. 
Another great activity she completed with this book was called, "The Name Page".
Students simply draw a picture of themselves and then write a sentence about why their name is perfect for them. 
This project would make an adorable bulletin board for the hallway! 
Do you talk with your students about how not to use hurtful words in your classroom?
I would love to hear your ideas!