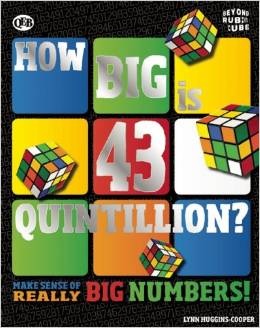 How Big Is 43 Quintillion by Lynn Huggins-Cooper is an excellent book for Middle-Schoolers about numbers and math.
Another great book in the Beyond Rubiks Cube series, this book is overflowing  with answers to questions like.....
When is 100 not 100?
What is the biggest number to ever be named?
Do you know how many hairs are on your head?
What was the most profitable movie ever made?
Similar to a Ripley's Believe it or Not, this book is FULL of great photos and information that will keep your students attention for hours!
This would be a great book for your Middle School Math class. It is a great way to show students how numbers and math are a part of their everyday lives. This book includes information about animals, prehistoric times, space, movies, the history of numbers and so much more.
You can find How Big is 43 Quintillion here. 
How could you use this book in your classroom? I would love to hear your ideas!