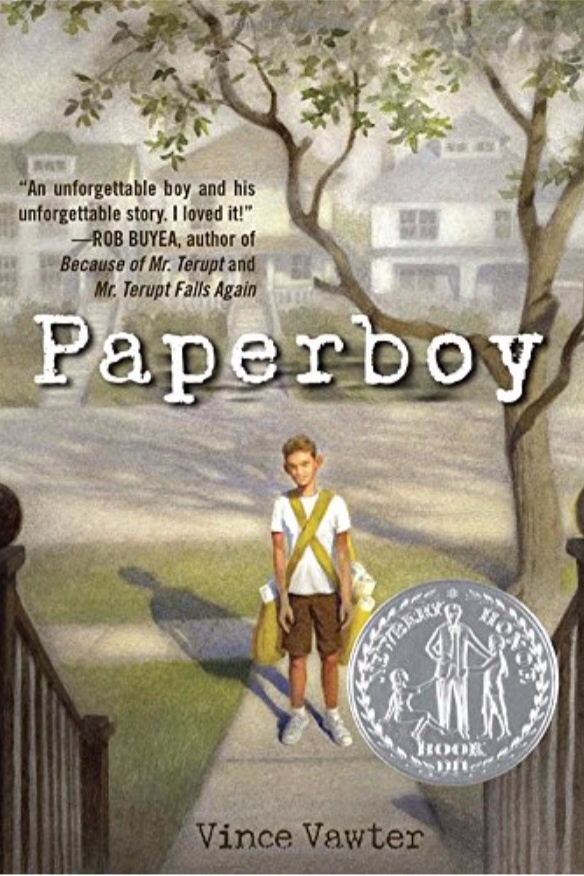 Paperboy by Vince Vawter is an award winning book for readers 6th grade and up, and has been compared to To Kill A Mockingbird by Booklist. 
Paperboy is a fantastic read about an 11-year-old boy named Victor who struggles so much with stuttering and speech that he avoids people and social situations. Growing up in the South in 1959, Victor is especially close to his parent's African American maid, Mam. Mam, a strong, faith-filled woman and comforting presence throughout his life, understands Victor in a way that most people, even Victor's parents, cannot. She tries to instill confidence in Victor despite his insecurity of speaking. 
When Victor's friend Rat heads out of town on Summer vacation, Victor takes over Rat's paper route forcing him to interact with customers in a way he never has before. Through delivering papers and collecting weekly payments, Victor meets a variety of characters in his town that begin to change how he views his life. As Victor visits these homes everyday, he becomes more involved in the lives of a wise, well spoken bookworm, a lonely alcoholic housewife, and a boy who spends his days only watching TV. 
Along the way, Victor becomes entangled with the neighborhood criminal Ara T, and Mam will do all she can to keep Victor away , even if it means putting herself in harm's way.
As Victor struggles with the limits of Man's position in his life and the limitations she imposes on him, the reader is introduced to the racial inequality of the 1950's.  And as students come to know Victor, they begin to understand the painful reality of living with a speech impediment. Victor struggles with what he wants to say but the words are trapped in his mind and when he does speak, his peers tend to react with taunts and ridicule.
Paperboy, written loosely off the experience of the author's own struggle to overcome a speech impairment as a child, is the perfect book for your middle schooler this Summer.  Combining history, action and empathy, there is no question why this book ended up on the Amazon Best Book of the Month list!
You can find Paperboy by Vince Vawter here.