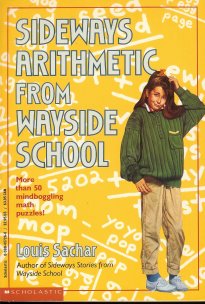 Louis Sachar has written a fun chapter book that will have your Middle Schoolers practicing math without even knowing it!
Sideways Arithmetic from Wayside School is a chapter book with over 50 math puzzles and problems.
With hints and clues along the way, kids will learn to use logic, reasoning and math to figure out some really fun problems!
Using witty characters and silliness, your kids will want to continue reading until the very end!
Each problem has hints and the back of the book has all the answers.
This is a great book to read along with your kids. I enjoyed solving the problems as much as my kids did! We read a problem at dinner each night and it always ended in giggles and fun!
You can find Sideways Arithmetic from Wayside School here.